sumber photo : AP
Perkawinan Pangeran Williem dan Putri Kate yang berlangsung akhir April yang lalu, disebut-sebut sebagai perkawinan termegah abad ini.  Sebagian besar orang tentunya mengamini hal ini, jika ukurannya adalah kemewahan dan banyaknya pasang mata yang menyaksikannya.
So, bagaimanakah sebenarnya The royal wedding effect itu.. Siapa yang diuntungkan? yang jelas media yang menayangkan siaran langsungnya atau menulisnya dalan head line besar-an di halaman muka. Adakah sisi positif yg kita dapat ?  Lu…. gua… beda..
Yang jelas…
Pengaruh negatifnya sudah terbukti menjalar di arena FI yang di gelar di sirkuit Silverstone Inggris..
Kartun Tabloid Bola edisi 2 Mei 2011
SPORT Cartoon Si Gundul – Karya : nunk (Hanung Kuncoro)
Efek negatif tayangan The royal wedding..
Karya : Ikhsan Dwiono – Tim Order di toilet 🙁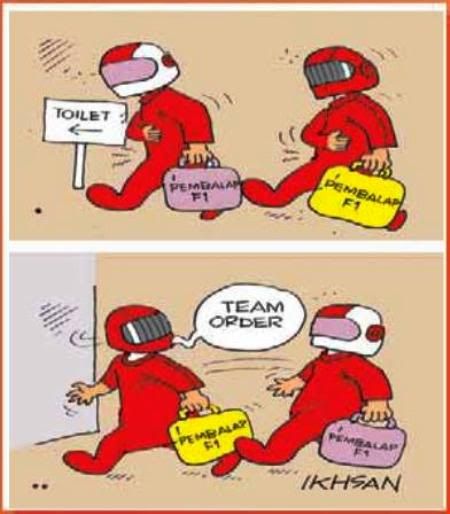 Karya : Nazar – F1 terjebak macet.. 🙂
Karya : Muslih kokkang – Tragedi pit stot – kebelet pipis 🙂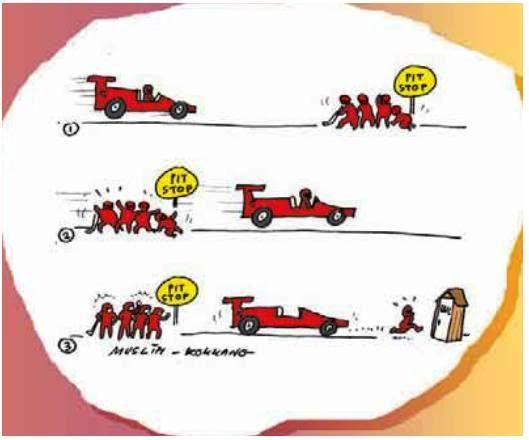 Mutiara kata hari ini
"Karena kita hidup dalah jarak lemparan batu dari orang lain, tidaklah berarti bahwa kita boleh saling lempar batu satu sama lain."
Stephen S. Wise